Prioritising our customers is working wonders
16th March 2021
At Insite, we always strive to give our customers excellent service. It's been over a year since we opened our new contact centre in Peterborough, and, while a lot has happened in that time that we could not have foreseen the extent to which our customer service has gone from strength to strength. We are now rated 4.7/5 stars on Trustpilot, with over 1,000 reviews, 83% of them rating us as 'Excellent'. This means we are the top-rated heat network metering & billing company in the UK.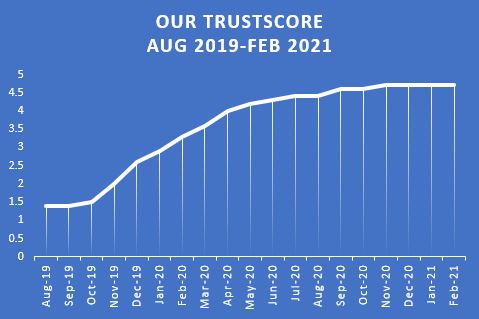 Hundreds of people have posted comments praising our short waiting times, rapid resolution of issues and the friendliness, knowledge, helpfulness, and efficiency of our team members. Typical comments include:
Extremely efficient and personable experience. A lovely representative called Bobbie was extremely helpful and gracious during our conversation. Although my enquiry was short and easy, she made it a pleasure to call Insite Energy and strengthened my affection for the company! You guys are doing something right! And special shout out to Bobbie, good luck in that competition!
Put the other energy companies to shame. Had a great experience with Christian, who listened and help me resolve a niggling matter. They have always given me the impression it's a small company, with smart people on the phone. You don't have to keep repeating yourself, they just 'get it' - thanks guys for your help.
Easy and lovely call. After close to no wait at all, I explained my issue and questions, which were immediately understood and treated very quickly. Andrew was clear, he explained everything and was able to solve my problems/answer my questions straight away. He also explained to me the line was secure when I gave my bank details, which I appreciated. He had a lovely, friendly overall attitude! :)
We are grateful to everyone who has taken the time to give us their feedback – we love to read the messages!
At the heart of our success is a genuinely empathic and caring working culture, which is passed through to our customers. We pride ourselves on talking like humans to humans! We focus on taking the time to talk to customers on a case-by-case basis, making sure that their queries, questions and issues are resolved before we close a case. We don't work off scripts with standard answers. Much to everyone's pleasure, our webchat function is managed by real people and no bots!
Always there when you need us
Fortunately, this level of responsiveness from our dedicated customer service team means we've been able to give our clients the support they needed from us when facing challenging times over the past 12 months. With the recent cold snap and many people spending more time than usual at home these days, some have experienced higher-than-expected energy bills. This means more people have got in touch with us to discuss their bill or to organise a payment plan. For many, heat networks are new and it's not always obvious how tariffs are compiled.
As the performance data in our table below shows, we've managed to reduce the number of occasions customers need to pick up the phone to call us. By putting as much information as possible on our website and in welcome packs when customers move into their property, the majority of basic queries are satisfied without the inconvenience of a phone call.
Key Insite Energy call centre performance data

We are always keen to help, and, despite the increase in demand, we've been able to keep call waiting times to just 53 seconds, on average. That's around 27 times lower than British Gas and puts us in the top two call handling times across all UK energy companies, at just one second behind the current market leader.
86% of our incoming email queries, too, are resolved within 24 hours – which means we're smashing our own 70% target. And we've achieved all this while facing the additional challenge of moving our customer service team to home working in response to the COVID-19 pandemic.
"It's a testament to the quality of the people and systems that we have in place in Peterborough that we have been able to continuously improve our service levels over the past year, under difficult circumstances," said Gareth Copland, Insite Energy's Client Services Director. "We took a decision to create a dedicated contact centre with state-of-the-art technology and very experienced, exceptionally high-calibre staff, and then to invest in their ongoing development. It's great to see that it's paying off."
We are not resting on our laurels, however. Our aim is to be the top-rated energy provider across all categories, with a perfect five-star Trustpilot rating. With a team in place that genuinely cares about our customers, and more delighted customers than ever before, we believe we have what we need to make it happen.